Our Veterinarians 
Animal Care Center Montana's veterinary team looks forward to meeting you and your pet! Learn more about the wonderful people behind your pets care.
Animal Care Center Montana Veterinary Team
Dr. Francis
Dr. Francis graduated from high school in 1978 in Colorado. He attended Northern Junior College in Sterling, Colorado where he obtained an Associate of Arts degree. He transferred to Colorado State University in 1980 and obtained a Bachelor of Science degree. Mark started Veterinary School in 1982 and graduated with his DVM in 1986. He went on to mixed animal practice for two years in Limon, Colorado. In June 1988, Mark and his wife moved to Hardin, MT and he practiced at Animal Clinic. In 1992, he built Animal Care Center and has practiced in the Hardin area for 30+ years. Dr. Francis has 2 grown children who live in the community. Dr. Francis has 1 daughter in law, 3 granddaughters, and 2 dogs(Caramel and Crimson). Dr. Francis enjoys all aspects of mixed animal practice, especially orthopedic surgery and large animal herd work.
Dr. Uffelman
Dr. Chelsea Uffelman grew up in sunny Tucson, Arizona, where she obtained her Bachelor's Degree in Veterinary Science, Summa Cum Laude, from the University of Arizona in December 2012. She completed her Doctorate of Veterinary Medicine, Cum Laude, from Colorado State University in Fort Collins in May 2017. Dr. Uffelman is PennHIP certified, having completed her training in 2023. She met her husband, Brandon, a local fourth-generation farmer, and moved to Hardin, MT, in 2012. Dr. Uffelman's professional interests include surgery, internal medicine, and emergency/critical care. Outside of work, Dr. Uffelman stays busy as a mom to two beautiful daughters, Skyla and Brielle. In her spare time, she also enjoys riding her horse, spending time on the lake wakeboarding and waterskiing, and hiking with her Labrador Bailey.
Tami Halfpop
Tami Halfpop grew up in Bozeman, MT, and attended Montana State University (GO BOBCATS!) from 1979-1983 where she furthered her education in Animal Science and Office Administration. Tami met her husband Paul in 1990 and they moved to Hardin in 1993. Tami started at Animal Care Center in April 2002 and has been with us since as a veterinary technician. Tami has one daughter, Nicole, who is currently attending University of Arizona Vet School as a first-year student! Tami enjoys needlework and dog training. She has 3 dogs(Baxter, Brynn, and Levi), 3 horses, and numerous turkeys and chickens.
Kylie Martin
Kylie Martin grew up in the small town of Pakenham, Ontario, Canada. Her dad's job eventually led the family to Stittsville, Ontario, then American Canyon, California, and then to South Jordan, Utah. She graduated early from Bingham High School with college credit. She attended Weber State University and then went to work in the Animal Department at Lagoon Theme Park. She moved to Hardin in 2012. She worked at Master Lube, and then switched to Hardin High School for five wonderful years! In 2013, she was introduced to the grouch of her life, her partner, Kevin. In 2017she started with the Animal Care team! Kylie now works for the NRCS and Animal Care Center part-time. She has 1 dog (Shandi), horses, and cattle!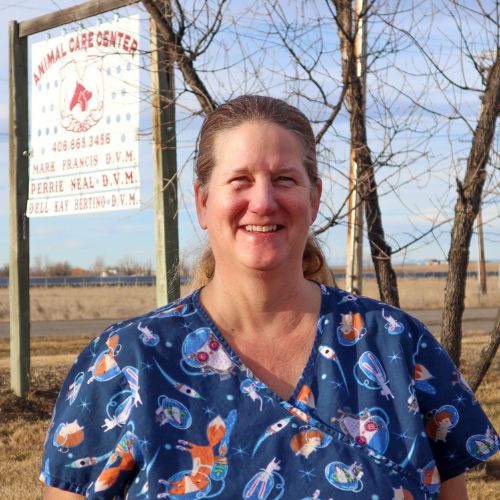 Marla Jeffers
Marla Jeffers grew up on her family ranch in Lodge Grass, MT. After graduating high school in 1985, she attended Montana State University (Go Bobcats!) where she received a Bachelor of Science in Animal Science/Science Technology. She returned to the ranch and managed a local convenience store near the Little Bighorn Battlefield. In 2007, she joined the Animal Care team and has managed the office since! She enjoys golfing and helping the elders in the Hardin Community. Marla also has a cat named Calipso!
Bailey Chalfant
Bailey Chalfant was born and raised on her family's ranch on the Northern Cheyenne Reservation. She attended high school at St. Labre Catholic Indian School where she graduated in 2017. In May 2021, Bailey received a Bachelor of Science in Health Sciences and Healthcare Administration at West Texas A&M University. In 2023, she hopes to have completed a Master of Science in Public Health, Environmental Health Sciences. She works as a technician in the clinic and is the primary large animal technician for both Dr. Francis and Dr. Perrie in the field. Bailey has the Great Pyrenees named Sis, a Heeler named Cowgirl, and a goat named Peanut!
Jill Marty
Jill Marty grew up on a small ranch north of Hardin. She graduated from Hardin High School in 1996. Jill earned her associate's degree at Denver Institute of Technology, where she also worked at a vet clinic as an assistant. After graduating from DIT, Jill moved to Bozeman, MT where she worked as a veterinary technician at Gallatin Vet Clinic. Jill returned to Hardin in 1999 to work briefly at Animal Care Center before leaving for a couple of years to sell insurance. Jill returned once again to Animal Care Center where she has been with us as a veterinary technician for the last 20 years. Jill is married to her loving husband, and they have 2 wonderful daughters. Jill also has 2 heelers(Rowdy and Misty)and a dachshund/chihuahua mix(Odie)!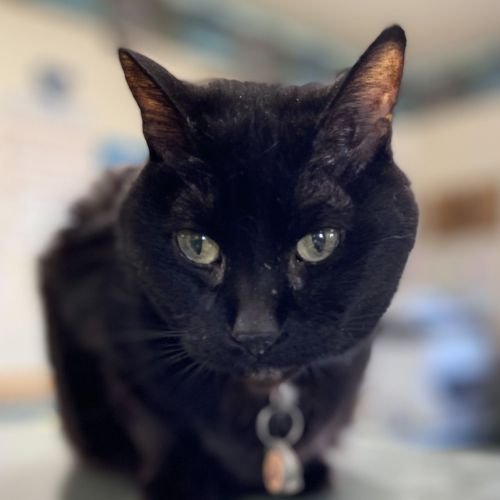 Jinx
Jinx was a gift from a long–time client to the clinic. She is 17 years old and is the best front greeter any place could ask for! She enjoys laying on the printer, eating anything you put down and hanging out by the window.